---
---
Biography.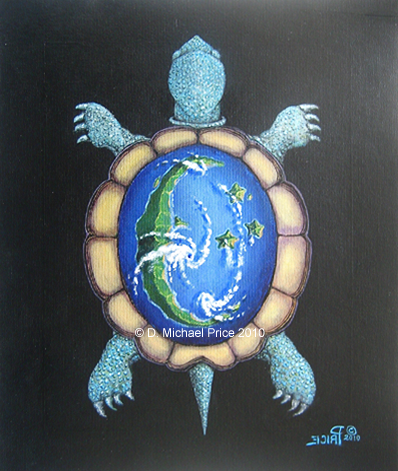 D. Michael Price is a fantasy artist whose works have graced the walls of hundreds of galleries both nationally and internationally. Well-respected as a successful fine artist as well as published children's book author/illustrator, Michael's works of fantasy art in the acrylic and oil mediums on canvas are sought after by private collectors worldwide. Their extensive detail and magical atmosphere transport the viewer to another realm, and children and adults alike are spellbound by their humor and originality.
While Michael's sterling reputation in this genre extends well past his home in Upstate New York, his love of the magical beauty to be found in the hills, valleys, forests and streams of home, provide Michael with constant inspiration. It is his wish to share with the viewer this magic and, for however long a period, transport them.
Michael earned his Bachelor of Fine Arts Degree with Honors from the State University of New York at Oneonta, with an emphasis on oil painting and book design. He published his first book Across the River in 1995. His original art works are the illustrations for his books. Since that time Michael's successes as both a children's author with multiple books published, and fine artist, have gained him celebrity status.
Additionally Michael undertakes commission artwork for various publications; he has worked for many prestigious houses in this regard including such noted publications as The National Geographic.
Michael has also lectured on art and the creative process in colleges and schools and has been the artist in residence at the Roberson Museum at Binghampton, New York. His works have been utilized under license in various merchandising arenas; his prints and cards are also available for sale at fine galleries and art museums. Michael welcomes your inquiries in these regards. Please click here to contact Michael.
Michael is a member of the Chenango County Counci On the Arts and the Cooperstown Art Association.
---
Terms & Conditions | Privacy Policy | ©2011-2023 DMichaelPrice.com All Rights Reserved. Site developed by NikkiAlvinSmithStudio.com Some colors may vary due to the photographic process.