---
---
Books
Instead of online ordering on these items kindly call (607) 229 9405 and leave a detailed message including the items you are interested in.
Michael will call you back with stock availability and shipping times.
Thank you.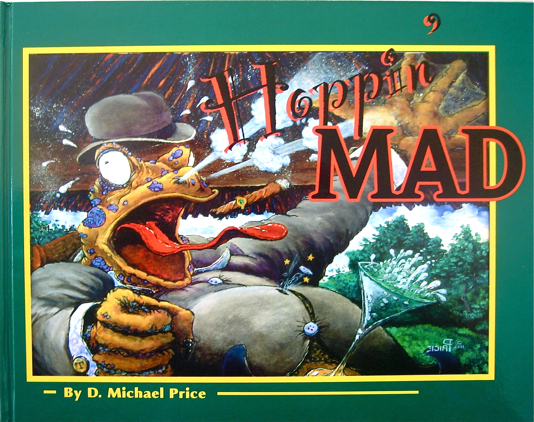 Hoppin' Mad. New release from celebrated author/illustrator D. Michael Price. Only $17.99
A delightful children's story woven with magical characters all beautifully illustrated. From elfin musicians and sparkling fairy queens, to Boss Toad and the inquisitive lizards Hank and Frank.
The forest is alive with music and happy creatures until Hank and Frank stumble upon a problem with pollution in the neighborhood pond. The errant Boss Toad is busy with his business, making special tonic and causing vegetable waste to filter back to the water causing all the fish and frogs to be "Hoppin' Mad." Hank and Frank enlist the help of the forest fairies and the fairy queen and soon have Boss Toad's business closed down. Boss Toad learns from his experience and as he loses his flashy jewelry and signatures of wealth, he realizes that good friends and a happy life is more important. Soon he is fulfilling his dream and singing with the musical forest band, happy to be free of the constraints of business with a fresh attitude and joy for life.
Hardcover.
Published Review:
" This is a lovely story full of educational highlights. The two morals of taking care of this planet, and taking care of each other are artfully intertwined throughout the pictures and text. The art work is amazing and as you turn the pages there are lots of special details for your child to discover. Michael is known for his outstanding fantasy fine art and this is a wonderful way to enjoy the magical properties of his works. Very enjoyable and the perfect length for a bedtime read."
Review excerpt from TheHorseStudio.com
---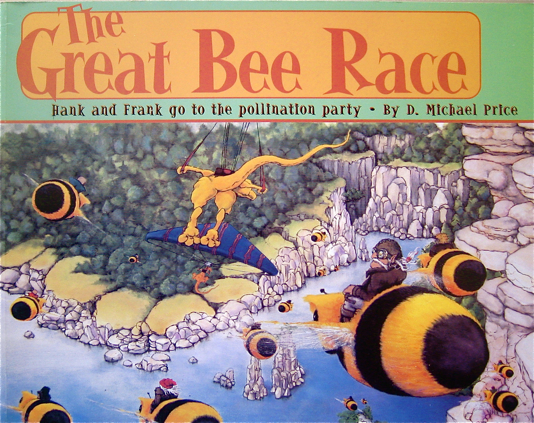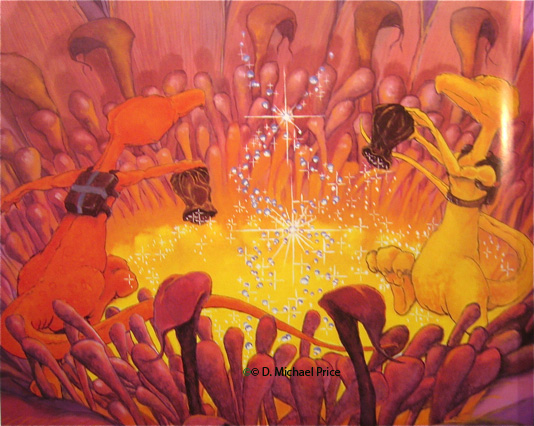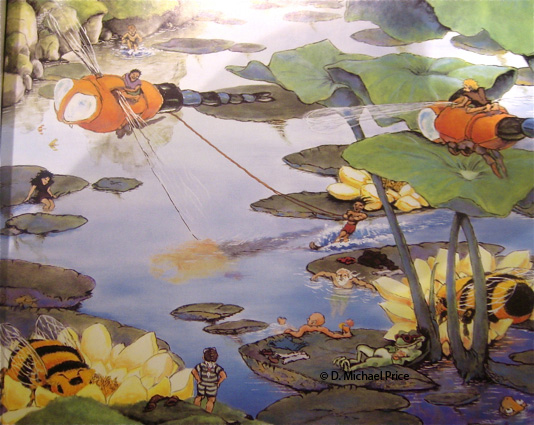 Softcover $12.99
Published Review:
"The Great Bee Race is Michael's second book, and the art work is as usual, phenomenal. The story explains in a fantasy fictional setting the nature of pollination and the importance and role playing of bees and other critters. There is a wonderful moral here too concerning the importance of all living beings, no matter how diverse they may appear, that is artfully threaded into the story.
The magical setting and great adventure of Hank and Frank, the leaping lizard brothers, as they hang glide their way to the pollination party is well told and makes a great bedtime read. As much fun to read as a parent as it is for a child."
Excerpt of review published by TheHorseStudio.com, reprinted here by kind permission of The Horse Studio Inc.
---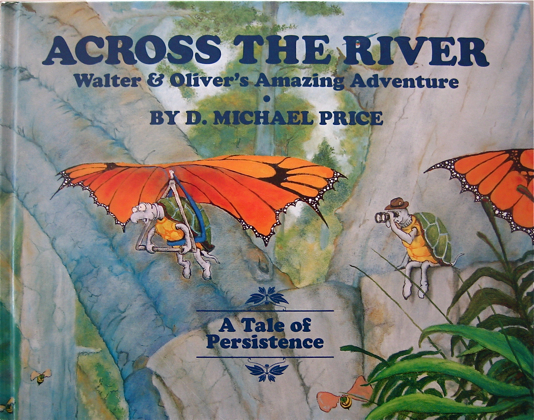 .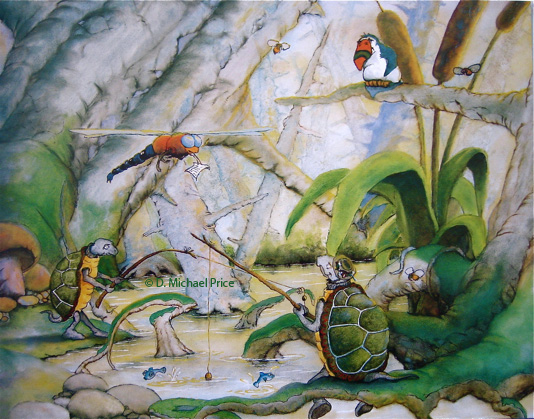 It all began with this book and with two turtle brothers, Walter and Oliver. These land turtle brothers are interrupted during their daily fishing one morning by a dragonfly carrying a message. They are urgently needed on the other side of the river! With some hard work, persistence, and a little help from fairy friends, Walter and Oliver make it across the river to a surprise birthday ending.
Hardback. Published by The Greenwich Workshop Press.
Sorry, currently sold out!
Published Review:
TheHorseStudio.com review, reprinted here with their kind permission.
" The illustrations in this book are beautiful. Michael Price's works are often exhibited worldwide as Flights of Fantasy, flying characters are evident in much of his work. The details and humor in this book are stunning. They will evoke the child in every parent, and in every child a sense of wonder. A tale that inspires as it teaches. Cleverly orchestrated to educate as it entertains. This was the start of his career as an author, and we can see why Michael's career as both an illustrator and author, 'took off' after this publication."
---
Shipping is FREE within the domestic USA. For international orders please email info@DMichaelPrice.com with your location and products you wish to purchase and you'll receive shipping options. Please note duty and clearance charges are the responsibility of the buyer. Payment is via Paypal secure services. All major credit cards are accepted.
If you have a store or event and would like wholesale pricing please contact us. Michael is also available for book clubs, signings and for lectures on the creative process.
If you would like to purchase an original work of art upon which these published images are based, please email us. Michael has many more works of art available than are showcased on this website under the original art page.
---
Terms & Conditions | Privacy Policy | ©2011-2023 DMichaelPrice.com All Rights Reserved. Site developed by NikkiAlvinSmithStudio.com Some colors may vary due to the photographic process.